An early Christmas present came to me this afternoon. After writing about wanting to see the newer gDitty prototypes,
Maurina Venturelli
,

Web Communications and Social Media Consultant tweeted the Flickr set you see above. It looks like they posted the album today! Now that's what I call a responsive Web 2.0 / Social Networking team. In the pictures you see some pre-product shots and designs as well as what appears to be family focus groups and even some storyboarding / brainstorming sessions.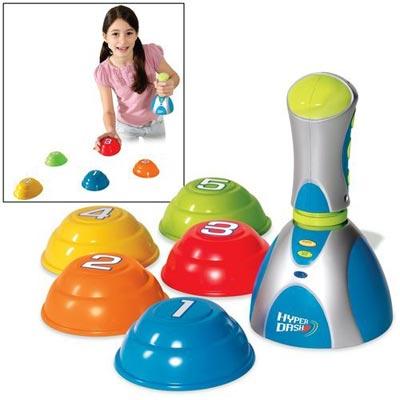 There is an intriguing shot of what appears to be simple push-activated lights on the floor. I'm trying to figure out why they would do this activity and it also reminds me of a toy by Wild Planet called Hyper Dash. Using RFID tags in numbered mini- pucks, the object is to hit the correctly called number or color in the least amount of time possible. I was contacted by Dan Botnick and he was generous enough to send out some Hyper Dash, Hyper Jump and Animal Scramble for me to try out in the lab and with my students. Amazingly, college-aged students loved it as much as the children we work with.
Thanks again to @HopeLab for rolling out these photos and I look forward to seeing any more peaks into the R&D of gDitty. Happy Holidays!