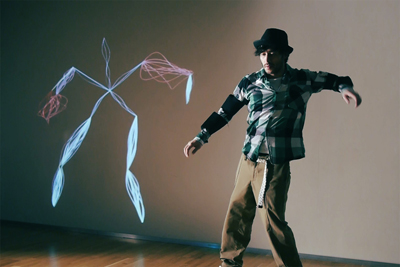 As in all games especially exergames, so much of the gameplay will be predicated on actual dance skill proficiency.... so someone like me who can't pop and lock - would be terrible at it - but I know I'd have fun exergaming.

WiiPop allows the user to freestyle and improvise their dance moves, instead of repeating a pre-defined routine locked onto a small area or touch sensitive floor pads. Bust a Move!
Click here to explore more of ExerGame Lab's archived posts involving exergame projects
The 8th Annual
Games
for Health Conference in Boston, MA at the Hyatt Harboside Hotel is June 12-14 -- under one month away!
Register today at:
http://www.regonline.com/gbew2012
Additional Games for Health Keynotes!
Constance Steinkuehler Squire, senior policy analyst for the White House Office of Science and Technology Policy, will discuss the opportunities for videogames to address national challenges, including those in health, health care, and biotechnology.
Bill Crounse, MD, senior director of worldwide health for Microsoft, will present "Connecting & Kinecting Health and Health Care," which will explore how Microsoft and its partners are merging its information and game technologies to create global solutions for personal health and professional health care.
Jane McGonigal, New York Times bestselling author and co-founder of SuperBetter Labs, will highlight the design and release of SuperBetter, a game-based social application designed to help people boost personal resilience and lead healthier, longer, and more positive lives.
Jay Walker
, curator and chairman of TEDMED, a global community of people who passionately believe that the future of health and medicine is here, will provide the end-of-conference special guest keynote: "Gaming the System".
About Games for Health
Founded in 2004, the Games for Health Project supports the development of the health games community, champions efforts to mainstream health games, and brings together researchers, medical professionals, and game developers to share information about the impact games and game technologies can have on health, health care, and policy. The Pioneer Portfolio of the Robert Wood Johnson Foundation is a major supporter of both the Games for Health Project and its annual Games for Health Conference.
About the Robert Wood Johnson Foundation and its Pioneer Portfolio
The Robert Wood Johnson Foundation focuses on the pressing health and health care issues facing the United States. As the nation's largest philanthropy devoted exclusively to improving the health and health care of all Americans, the Foundation works with a diverse group of organizations and individuals to identify solutions and achieve comprehensive, meaningful and timely change. Projects in the Pioneer Portfolio are future-oriented and look beyond conventional thinking to explore solutions at the cutting edge of health and healthcare. For more information, visit
www.rwjf.org/pioneer.
Our Schedule Block Page
You can also follow us
on Twitter.